The world is in constant change. For the fitness industry to thrive in upcoming years, we must look ahead, understand the trends and factors that will shape our business in the future and move promptly to prepare for what's to come. At Mike's Mobile Gym, tomorrow's fitness industry is here today.
At Mike's Mobile Gym we have revolutionized the future of the gym experience.  This innovative approach was created due to demanding work schedules, idle lifestyles, stay at home parents, and self-conscious individuals who are reluctant to step into a gym. Our premium service reaches out to all those who value time efficiency, personalized service, and an effective workout with a highly certified health and fitness professional.  We customize your very own fitness program that focuses on your individual goals.  Call today to have the gym come to your door. 631-291-1213
About Mike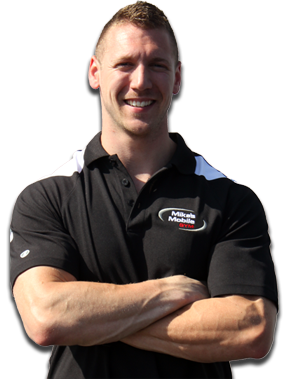 Mike Lahey obtained his Bachelors of Arts in Business Management graduating Magna Cum Laude at the State University of New York at Farmingdale State College. He was the Captain of the varsity gymnastics team at Smithtown High School and during his college years he became a Strength and Conditioning Coach at Gold Medal Gymnastics Center in Huntington, New York.  Mike is also an avid amateur professional skateboarder who was sponsored by Xtreme Surf & Sport and Osiris Footwear.  He attended demonstrations, conducted charitable events, and taught skateboarding lessons.  Mike enjoys and promotes all sports and fitness related activities for their significant role in optimal health.  He is always searching for new and exciting fitness events; on August 4, 2007, Mike placed 3rd in the Law Enforcement Strongman Competition, which is a benefit for New York State Trooper David Brinkerhoff and New York State Trooper Richard Mattson.  He auditioned for the American Gladiators show in New York City. At this event Mike performed 29 pull-ups in 30 seconds.
Mike has always aspired to help others achieve their greatest levels of health and performance, which led him to acquire his Personal and Strength Training Certifications in 2007 from the American Fitness Professionals and Associates, a nationally accredited organization. Mike then began his in-home personal training career.  Currently, Mike holds one of the most prestigious personal training certifications from the National Academy of Sports Medicine. In addition, Mike is constantly utilizing the best practices and techniques in personal training and is always                                                                                      concentrating on the newest improvements in the fields of health and fitness.